Our Bands
Beginning Band: For students with no previous band experience (grades 4-12). Each weekly rehearsal is one half-hour long, with an additional half-hour group lesson. Beginners typically start with group lessons only for the first few weeks. At the beginning of October, Beginning Band practices for the first time as a complete group. Beginning band meets Thursday morning.

Concert Band: For students who have played their instruments for at least one year. Each weekly rehearsal is one half-hour long, with an additional half-hour group lesson. Concert Band meets Thursday mid-morning to mid-afternoon.

Pops Band: For students who have completed Essential Elements Book 2 and above. This group includes Symphonic and Concert Band members. The Pops Band rehearses one half-hour every other week. Pops Band meets Thursday mid-afternoon.

Symphonic Band: For experienced band students, by audition (for chair placement). Symphonic Band rehearsal is one hour each week. Symphonic Band meets Thursday afternoon.


Ensembles: For Symphonic Band members, we have a Flute Ensemble, Brass Ensemble, Woodwind (clarinet/saxophone) Ensemble, and a Percussion Ensemble. The Ensembles rehearse one half-hour each week. Ensembles meet Thursday mid-afternoon.
History
The Twin Cities Homeschool Band (formerly known as the Shoreview Home School Band) is the most complete home school band program in the Twin Cities, offering a variety of bands and lessons from beginners through advanced high school level.
The band is run as a non-profit 501(c)(3), which combines family involvement with a dedicated director, and provides a large-group band experience for our home-educated children. Our director is Mr. Neil Baumgartner III.
The band has been in operation since 1999 starting with a Beginning and Concert (intermediate) Band. In September of 2000, the Symphonic Band (advanced) became the first home school band in Minnesota to accept students by audition only. One of the primary goals of the band is to provide training and experience that will help prepare students to become actively involved in music ministries as well as in their communities. Several graduating students have gone on to prestigious university music programs and made music their career.
Meet the Director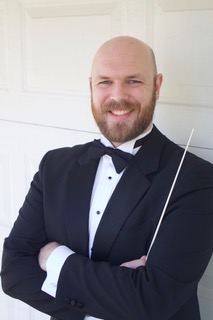 Neil Baumgartner III graduated with a B.A in Music Education from the University of Northwestern – St. Paul in 2010. Since then he has taught in the St. Paul school district, the Mounds View Public Schools summer band program, and at various private schools and homeschool bands in the Twin Cities. Neil is an active trumpet player in the Twin Cities area and has performed with local bands and orchestras, was one of the founding members of the Twin Cities Trumpet Ensemble, and is currently principle trumpet of the Mississippi Valley Orchestra. Neil believes that everyone deserves to experience great music of all styles. He is passionate about seeing his students learn, grow, and achieve excellence in music performance.
In his free time Neil likes to spend time with his wife and two children, read, play strategy board games, and keep up with the latest Sci-Fi shows.